HMC-Viking Key West Challenge Sponsor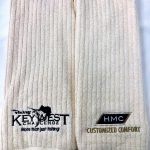 Handcraft Mattress Company is proud to partner with Viking as an annual supporter of their Viking Key West Challenge which takes place in Key West, Florida each year.  This elite event is open to 50 teams and takes place during the first week of April with fishing teams assigned a captain per boat. There are opportunities to win Grand Champion, Angler, Top Female Angler, Top Junior Angler awards, with First, Second and Third Places in all categories (Sailfish, Billfish, Tuna, Dolphin, Cobia, Kingfish, Wahoo). Handcraft Mattress Company was pleased to sponsor the event with our own custom embroidered Viking Key West Challenge/HMC hand towel for each of the 50 boat captains' gift bags.
Handcraft Mattress Company is the industry leader in custom made, hand-crafted mattresses and fine bedding for the yacht and super yacht industry, supplying to customers and boat builders alike. We are the preferred OEM vendor for Viking, among others.